Picture Perfect, established in 1982, is a family owned custom framing and art gallery business located in the heart of downtown Kelowna.
Serving the Okanagan for Over 30 Years
We specialize in original Okanagan artwork, decorator prints, posters and art cards. With over 100 years of industry experience our friendly and experienced staff can make your framing decisions an easy and enjoyable process. From replacing glass to shadow boxing a priceless treasure, Picture Perfect is able to handle any framing demands.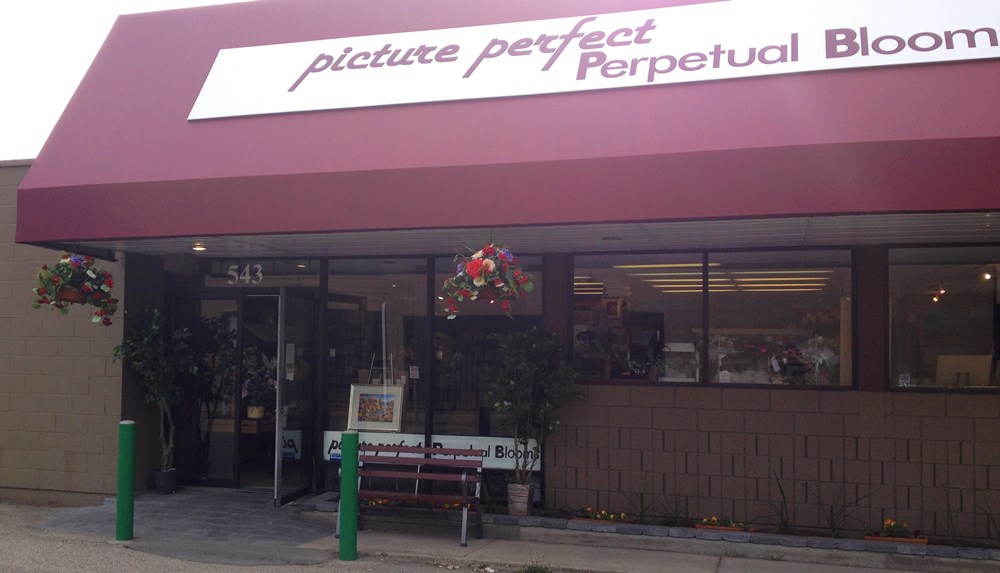 With our addition of Perpetual Blooms in 2002, we offer a superior line of silk flowers for residential, commercial, weddings or graduations. Our in house floral designer can fulfill your every need.
Great Service
The team at Picture Perfect are always ready to help you with any type of framing or art project. With over 100 years of industry experience, we are knowledgeable, efficient, friendly and offer all the information you need to make an informed decision while keeping your project on budget. From selecting the matting and frame thru to choosing the correct style of glass required, we are here to help you!
Wide Selection
Picture Perfect carries hundreds of frame samples from the top design companies such as Larson Juhl, Roma, Arquati, Vestate, Nielsen and Décor. Our matting choices are Crescent, Bainbridge, Artique and Peterboro. With our wide selection we can always find the most suitable framing designs to fit you needs. If you need to match an existing frame, bring in your frame or send us an email photo and we will then search to find the matching moulding. If you cannot decide between one frame or another, we will let you take the samples home so you can see them in your own setting to then make a final decision.
Affordable Prices
People will ask: "How much is framing?" There are so many different options in framing that it may be difficult to give an exact pricing until all the components have been chosen. With so many options available there are many ways an item can be framed that does not have to be expensive! We offer Poster Special framing (metal frame, glass, mounted and ready to hang) from $45.00 to $95.00. We will always make sure that our pricing is fair, that you are happy with your selection and we will work within your budget. We also offer a lay-away plan.
Community Supporter & Sponsor
As the official picture framers for the Kelowna Rockets Hockey Team and a sponsor of the BC SPCA branch in Kelowna, Picture Perfect is very proud of their commitments and reputation within their community.