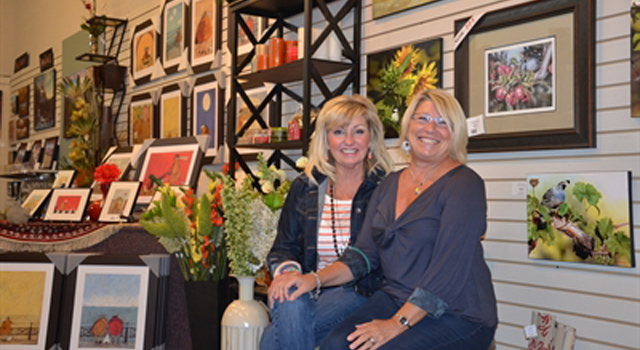 With over 35 years in the framing industry Linda (shown on the right) owned a gallery in Coquitlam, BC and Edmonton, Alberta then moved back to BC to join with Picture Perfect in Kelowna. Linda has now owned Picture Perfect since 1993. She enjoys the diversity of the framing industry as well as the wonderful people it allows her to meet, including her wonderful staff who she credits for Picture Perfects' amazing reputation!
Linda also enjoys getting involved in the community, and has been a board member of the Downtown Kelowna Association, The Kelowna Rotary Center for the Arts, and the Kelowna Art Gallery.
Neil / Frame Shop Manager
Neil has been with Picture Perfect for over 25 years. A PPFA certified Master Framer, Neil is the Frame Shop Manager and he specializes in custom mat design, collage framing, unusual object framing and just about any project you can give him! Neil is also a freelance graphic artist specializing in illustrations, logo designs, murals and digital 3D images.
Tracy / Retail Sales Manager
Over 18 years of experience in the framing industry, Tracy's favourite aspect of working at Picture Perfect is successfully showcasing a client's piece of art, while fitting their budget! She also enjoys any project that involves object art, as this allows her to help create a memory or collection for her client. Tracy loves any new challenge that comes her way and she is always ready with a smile.
Eileen / Framer & Designer
Eileen has been with Picture Perfect for over 12 years and her specialty in decorative and faux finishes are amazing. Eileen also has an extensive background in custom furniture finishing and touch up repairs. She has made numerous clients very happy with her ability to fix the so called "unfixable"!
Rosemarie / Floral Designer
Rose has managed Perpetual Blooms for over 8 years and has done an outstanding job. Rose has had the opportunity to work with both commercial and residential clients. One of her favourite aspects of her job is helping brides complete the perfect bouquet for that special day! Rose's creations are truly spectacular and we have seen many brides in tears of joy!!